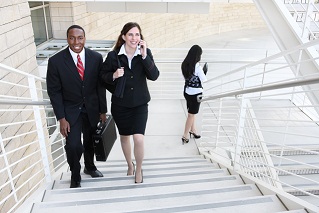 Why worry about creating loyal customers for your business? These consistent return clients are cheaper to keep than attracting new customers, for starters. They are also less likely to leave your company over a small price increase or quickly resolved conflict than newer customers. Loyal customers may even talk about and defend your business behind your back, giving you free word-of-mouth advertising with little to no effort on your part.
Now that we've convinced you loyal customers are an essential component to any successful business, let's talk about how to build that loyalty your company needs.
Get Personal
Technology has made it much more challenging to connect with customers in a personal way, but that doesn't mean businesses are off the hook in providing a warm, human touch whenever they possibly can. Make sure your website includes a phone number so customers can talk to a person when they want to. It is also beneficial to assign customers to a specific customer service rep, so they have a name, number and email address when they have a question or concern.
Create an Experience
Building customer loyalty goes beyond a satisfactory transaction to a full experience that starts when your customer enters your business and doesn't end until she is driving away. When you put the effort into ensuring every detail of the customer experience is a positive one, you are more likely to establish a loyal clientele that returns to your company time and time again.
Offer Rewards
Traditional customer rewards are good, but they don't always go far enough in building a loyal customer base today. Now is the time to kick your rewards program up a notch, by going beyond the standard discount. Find ways to truly engage your customers in the rewards process, by incorporating social media and apps into your program. Tangible gifts and prizes also help to make your customer's experience with you a memorable one.
Give Them an App
Reward cards and tags will soon be a thing of the past, as customers want their reward programs, like everything else in their lives, to go mobile. Many companies have already gotten into the reward apps game, which allows them to more efficiently track customer buying records at the same time they provide the customer with a more convenient and satisfying experience.
Pick Up the Pace
"Real time" moves at a much faster pace today, and businesses that can't keep up may find themselves fighting to keep customers. Use automation to speed up customer service experiences, but find ways to personalize those processes so customers don't feel shortchanged by the new procedures.
Hire Right
One bad apple on the customer service team can leave a big black eye on your business, so maintain consistency with your customer service representatives. Some managers end up with a less-than-stellar employee because they are anxious to fill an empty position, but sometimes a longer wait for the right employee is the better option.
Loyal customers bring a wealth of benefits to a business, so now is the time to raise the bar on your customer loyalty programs. With these tips, you will be on your way to a loyal customer base that saves you marketing dollars, boosts your profits and gives you word-of-mouth advertising absolutely free.
- Meredith Estep