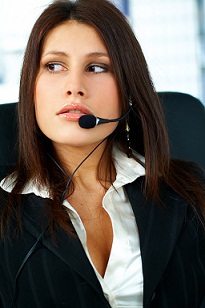 One of the most difficult aspects of any customer service jobs is managing customers who are angry or frustrated with your business. It doesn't matter what the reason for the irritation might be; right or wrong, difficult customers are a challenge that must be handled adeptly if you want to keep a solid client base. There are many tricks to diffusing a tense situation, but the bottom line is to see the problem from the customer's perspective so you can offer a solution or alternative that is acceptable. We have six tips to help you deal with the difficult customers you encounter.
Listen to Them
Customers who feel they have been treated wrongly want to be heard, first and foremost. They want someone to know – and care – that they have been inconvenienced and disappointed in some way. To begin, listen to what your customer is saying so you can identify the underlying problem and find an effective solution as quickly and accurately as possible.
See their Side
Sure, that customer may not be exhibiting the most courteous or respectful behavior when he is busy blowing off steam, but those emotions are coming stemming from somewhere. Look at the situation from the customer's perspective – did he have to take valuable time to come in and fix a problem that shouldn't have happened in the first place? Is he frustrated with a defective product or lackadaisical service that he has received in the past?
Agree with Them
Once you understand the problem from the customer's point of view, find a way to agree with her complaint or feelings. Don't just offer a generic, "I understand how you feel," however. Be specific in your empathy, by telling the customer, "I don't like to wait either," or "I hate to return products also." By relating to the situation, you let the customer know you understand the frustration and you are ready to make it right.
Apologize to Them
If the customer's anger is due to a mistake by your business, don't be afraid to apologize. Again, replace the standard "Sorry," with "I apologize for the way this defective product has inconvenienced you and I will do everything in my power to make the situation right for you." When you work in specifics, your customer is much more likely to buy into what you are saying and trust you to make him happy once again.
Get Assistance
If a customer does not calm down after these four steps are employed, let your CSRs know it is fine to move up the corporate ladder for assistance. Some customers may not be satisfied until they know they have spoken to someone in an authority position about a matter. Managers should be well trained at handling difficult situations so they can give their CSRs the necessary support to handle situations that are over an employee's head.
Difficult customers are an unfortunate part of any customer service job, but the good news is there are effective ways to transform these angry customers into satisfied clients once again.
- Meredith Estep