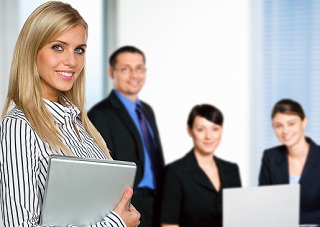 Customer service can be a challenging way to make a living, and those who work in the field full time may experience frustration and burnout from time to time. Companies that want maintain a consistent quality in their service departments must find ways to motivate those front line employees on a regular basis. When these employees realize that you value them enough to put time, effort and resources into keeping them happy, they are much more likely to put their best foot forward for your company every day. Consider these motivational tools designed with CSRs in mind.
Start at the Beginning
To keep customer service employees motivated, begin by hiring the right people in the first place. When you choose employees who have a natural enthusiasm toward the service industry, they will respond much more positively to the motivational tools you provide them.
Set the Example
If you want your staff to be customer-oriented, you must demonstrate that attitude to them every day. When the manager is enthusiastic and positive about the job, the staff is more likely to follow. Let them know that customer service is what your company stands for and that they are integral players in that effort.
Train them Right
Employees who know how to do their job are much more likely to perform with confidence, professionalism and enthusiasm. Training is not a one-step process in customer service – it is an ongoing effort that requires commitment from management and staff alike. By teaching your staff how to handle customers in a wide range of situations, your employees will learn to take ownership of their job.
Build a Team
Employees tend to work better when they feel like they are a part of a team, and this is especially true in the area of customer service. Provide your customer service department with team-building activities that get them out of the office and provide them with the ability to interact with one another in a different environment.
Track Progress
Monitoring your customer service provides two benefits – it pinpoints areas where your service department needs improvement and it offers motivation to employees who want to continue to refine their service skills. To ensure the practice offers a positive effect, avoid punitive measures, and instead use negative experiences as a training tool to help employees improve their job performance.
Provide Rewards
Rewards come in an assortment of packages, from public praise at staff meetings to bonuses on paychecks. Everyone likes to be recognized for a job well done, and your customer service representative may be much more motivated to go above and beyond in their service efforts if they think those efforts will be recognized by management.
Keeping customer service employees motivated is an important component of a service-oriented business. These people work hard for your company every single day, answering questions, processing transactions and managing customer complaints. When you invest the time and energy into helping these employees do the best job they can, they are likely to return the favor by providing your customers with the highest possible level of service.
- Meredith Estep