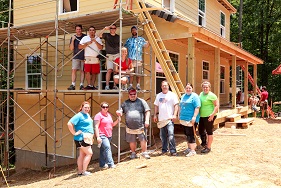 Several Unitiv employees can now add "construction" to their list of skills and talents thanks to our Community Outreach Project working with Habitat for Humanity: North Central Georgia, on Saturday, June 23, 2012.
Habitat for Humanity: North Central Georgia kicked off their summer build with the Fleenor family's First Nail Ceremony in early May, and will continue to welcome build teams throughout the summer. The future homeowners, Amy Fleenor and her four sons, were surrounded with support from friends and family as they watched the first of many walls erect on the foundation that will soon hold years of memories. Jef Allen, Executive Vice President, expressed Unitiv's excitement to be involved in this inspiring project.
As build-day volunteers, we donated our time and labor. Drywall and sliding were the tasks of the day, and we proudly walked away knowing we accomplished a significant portion of both tasks! As sponsors, we also plan to help fund the building materials needed to construct the home. In a time when homeownership is not a guarantee for many families, Amy will have the peace of mind in knowing her family will continue to build their lives and equity in a place they can call their own.

Habitat for Humanity homeowners invest at least 500 hours of "sweat equity" by working alongside volunteer builders and skilled workers, start to finish. Homeowners are chosen based on need and recommendation, and receive a gift that will continue to give long after the locks are keyed and the mat stating "Welcome Home" broken in by thankful feet! It was truly humbling to watch Amy help with drywall, and her eldest son Tyler put up an entire wall of siding.
On a more personal level, our employees enjoyed working as a team to do a job no one was familiar with. "I believe that this is a great non-profit organization and am impressed to see how many of the volunteers, especially the 'professional volunteers' who bring their construction knowledge to the build, are willing to give of their time and energy to provide a better life for a family that is dealing with the adversity that Amy's family has gone through. I was very glad to be part of it," boasted Jef Allen of his positive experience as part of the build team.
Unitiv places great value in team building and exceptional service. What better way to expand on both skills than in a setting far from our usual comfort zone? Working as a team to achieve a common goal is an activity that builds pride in the company, encourages team members to problem solve, and get to know each other outside of the office.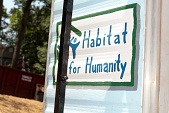 To learn more about how to get your company involved in a Habitat for Humanity build visit http://www.habitat.org/.
- Brittni Collins